A Friendly Letter to Skeptics and Atheists: Musings on Why God is Good and Faith Isn't Evil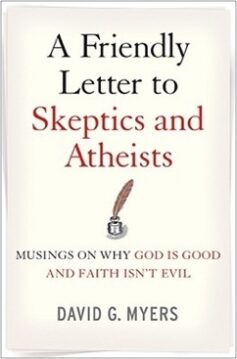 Responding to the "new atheist" assertion that religion—all religions—are "dangerous" (as well as false), David bridges the skeptic/believer dichotomy and suggests how faith can be reasonable, science-affirming, healthy, hopeful, and humane.
ReadtheSpirit.com interview with David.
Newsweek/Washington Post religion blog essay by David: Believers can be reasonable. (2008, September 16). onfaith.
Sightings (University of Chicago Martin Marty Center) essay by David: Religion is ridiculous? (2008, October 23).
Chronicle of Higher Education essay/letter (PDF) by David.
Perspectives article (PDF) by David: National secularity, individual religiosity, and human flourishing. (2008).
Cardus essay by David: Redeeming psychology means taking psychological science seriously. (2009, June 1).
Table of Contents
(NOTE: All links in this table of contents will download PDFs)
Preface

I aim to suggest to skeptical friends how someone might share their commitment to reason, evidence, and, yes, even skepticism, while also embracing a faith that makes sense of the universe, gives meaning to life, connects us in supportive communities, mandates altruism, and offers hope in the face of adversity and death … [more]

False and Dangerous

Mindful of the God-professing but war-making American president, the faith-inspired atrocity of 9/11, the gay-bashing (and sometimes gay) ministers and politicians, the religious opposition to medical stem cell research, and the science-denigrating creationists, many of you, my secular friends, understandably have had it with religion. In today's world, believing in God strikes you as an irrational delusion and a social toxin … [more]

My Assumptions

Framed positively, the new atheist books are not just an attack on mindless, unbending religion, but an affirmation of reason, evidence, and critical intelligence. Therein lies our common ground. We agree: Let's, with a spirit of humility, put testable ideas to the test and then let's throw out religion's dirty bathwater. And we differ: Is there amid the bathwater a respect-worthy baby—a reasonable and beneficial faith? … [more]

Mea Culpa
The Dance of Fanatics and Infidels
Simplistic Stereotypes
The Heart of Science and Religion
The Skeptics' Boys Club
Inseparable Body and Soul
Does Prayer "Work"?
The Benevolent Fine-Tuned Universe
Big Ideas and Biblical Wisdom
Secularism and Civility
(Nominal) Religion Feeds Prejudice
Godliness and Goodliness
Happy Faith-Heads
Healthy Faith-Heads
Does Explaining Religion Explain it Away?
The Leap of Faith
Appendix: International Society for Science and Religion Statement on Intelligent Design.
Order the book from amazon.com
Recommended link: Does science make belief in God obsolete?
Excerpts from this debate among leading scholars: